DEKA concentrated the results of thirty years of know-how into the technological advancements of the SmartXide2. The CO2 laser source with exclusive PSD® (Pulse Shape Design) technology, achieves performance levels never attained before in dermatological applications. SmartXide2 corrects skin imperfections and counteracts the effects of aging, such as wrinkles
and flabbiness, by exerting a unique action on the tissues with effective stimulation of neocollagenesis.
The therapeutic action selectively reaches surface tissues and deeper areas, ensuring maximum reliability in controlling the application, with minimum thermal damage and extremely rapid recovery times for patients. It is also ideal for areas until now considered untreatable such as the neck, décolleté and periocular area.
In line with the ongoing quest for innovation, DEKA opens the way towards a new multidisciplinary, avant-garde laser system.
SmartXide Touch with HiScan DOT/RF
HiScan DOT/RF combines the advantage of microablative laser treatment with RF energy. Thanks to this scanner tailored treatments to each patients' needs are possible, since it guarantees maximum flexibility.
Customizable operational parameters:
Pulse shape, power and dwell time
Scan shape and size Distance between DOTs
Bipolar Radiofrequency
- SmartStack
This flexibility is especially useful in more complex treatments such as scars, cutaneous pigmentation, deep rhytidosis, and in the darkest skin phototypes. SmartXide Touch DOT/RF minimizes the risk of PIH (Postinflammatory Hyperpigmentation).
SmartXide Touch is the truly decisive laser for MonaLisa Touch®, the best known procedure to treat vulvo-vaginal conditions in menopausal, breast cancer survivors and hysterectomized women. MonaLisa Touch® acts on atrophic vaginal tissue restoring the functionality of vaginal mucosa. It calms down - or eliminates -the most common symptoms that affect women's quality of life and intimate relationship, such as: vaginal dryness, itching and burning and dyspareunia.
One for MonaLisa Touch® Laser scanning system
One for RF Touch system.
SmartXide² V²LR unique and exclusive features make it the optimal solution for effective, painless treatment of atrophic vaginitis with no side effects, as well as for other stubborn conditions such as vaginal laxity, mild urinary incontinence or other sexual problems related to post-partum (MonaLisa Touch).
Smartxide² V²LR is compatible with optional accessories like two Diode lasers, three different scanners for surgical applications, and many handpieces. These optional make SmartXide² equally suitable for use in many medical fields:
Dermatology and Aesthetics
MonaLisa Touch® treatment and Surgical V²LR (Vulvo-Vaginal Laser Reshaping)
Surgery (ENT, Gynaecology and Would Healing)
Advanced CO2 Technology, Only by DEKA.
Thanks to its long tradition in CO2 production, with SmartXide Punto endorses the latest evolution in CO2 laser systems from DEKA, providing users with maximum levels of effectiveness and treatment possibility for any skin condition.
GLIDE is the new CO2 laser platform by DEKA which, thanks to its 30 plus years' experience, has introduced a new system and a series of more ergonomic and highly performing accessories. The unique and exclusive PSD technology can generate specific pulse shapes for the various body areas to be treated, making this technology ideal for the treatment of vulvovaginal problems.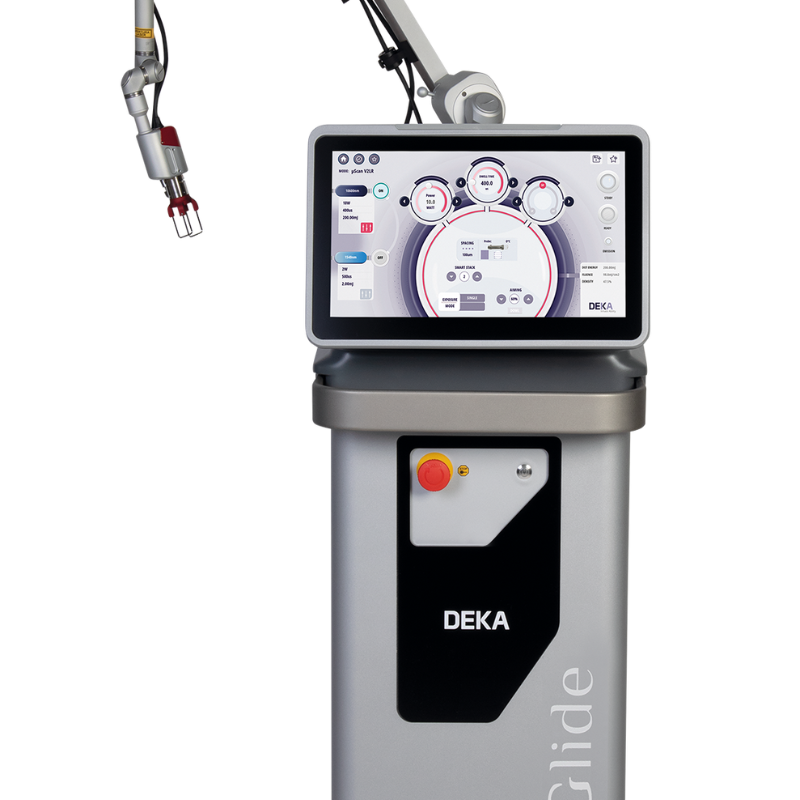 GLIDE is the new CO2 laser by DEKA, which, thanks to its 30 - years of experience, has introduced a new system and a series of more ergonomic and highly performing accessories. The new GLIDE system adapts well to the treatment of many areas, even the most delicate, like the neck, the decolletage, and the area around the eyes.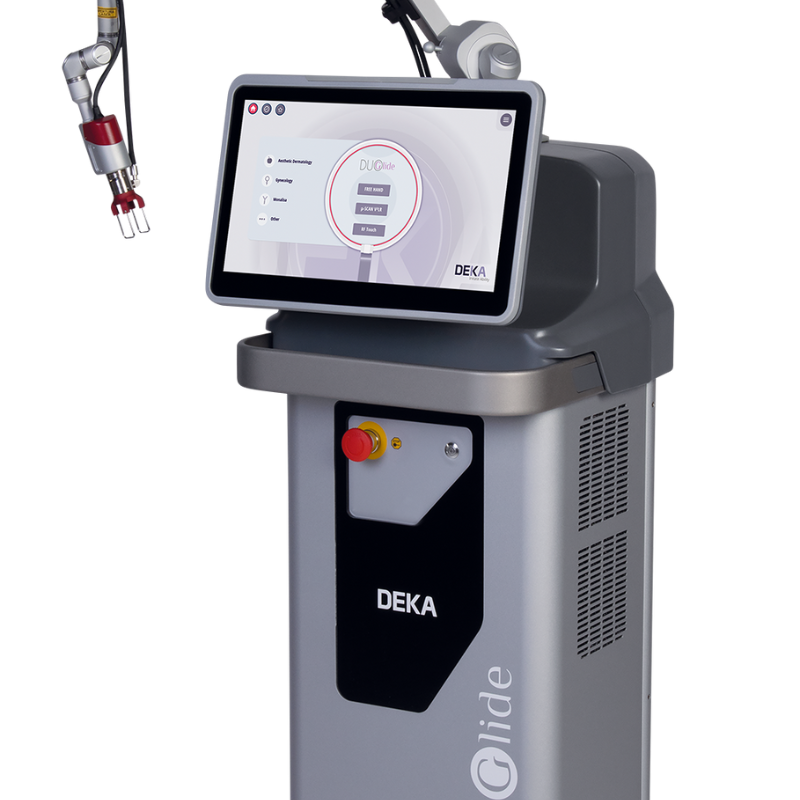 DUOGlide combines two wavelengths (CO2 10600 nm and 1540 nm) to maximize the efficacy in dermatological applications. Thanks to aver 30 years of experience, DEKA has introduced a new system and series of more ergonomic and highly performing accessories. The new DUOGlide exerts a single action on the tissue, effectively stimulating collagen and minimizing downtime. It is also perfectly suited to treatment of the most delicate areas like the neck, decollete, and the area around the eyes.